Your Family Handyman
Questions Answered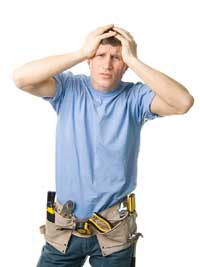 As the family handyman, can you relate to this picture?
Everything running smoothly. The job just about complete. You're standing back, admiring your handy work, and then you spot it.
You cut the trim an inch too short.
Or, you hooked the hot water supply up to the cold water.
Or, maybe you wired the lights backwards.
A coworker calls himself "Smart like dump truck" when he does these things.
It would be nice to avoid these issues, or at least minimize them, right?
Which brings me to why you're here.
As the family handyman, you're responsible to get the job done. But sometimes, you don't know how to even begin the job.
Well, you've come to the right place.
---
Get knowledge and gain confidence.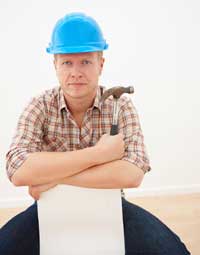 You'll gain the resources, knowledge, and confidence you need to get the job done right, on time, and on budget.
Learn about various handyman tools. Grasp the basics of home construction, plumbing, and electrical work. Gain knowledge on starting a handyman business. Get all sorts of handyman tips, and much more!
You'll not only learn how to do things right, you'll learn from the mistakes of others and how those mistakes were fixed.
You might even see a joke or two scattered throughout the site in order to keep the mood light, and calm the nerves before or after the big job.
---
Essential handyman tips before you begin any home repair project or organize your workshop
Home repair tips for the family handyman. Involve family, reduce stress, getting done quickly
Dry wall repair requires patience and an eye for detail. In the right light, the smallest flaw becomes visible. Check out these family handyman tips for repairing dry wall.
Sheetrock - Guidelines for self installation and finishing
ceiling repair and what you need to know to fix it properly
A bathroom repair is seldom easy but with a few tricks to the trade those repairs can be less complicated
Leaky basement walls? Paying too much to heat your home? You need foundation repairs. Save money and dry those wet floors up with a few simple tips...
Struggling with plumbing repairs? Get your plumbing handyman questions answered here.
Broken window? The following the simple window repair tips will keep nature in it's place...
Faucet repair tips and tricks for the do-it-yourself handyman
A chimney repair can be a simple fix or complicated mess. Find out how to handle it here.
Rain Gutters - much less complicates than you would expect
Thinking of starting a handyman business? My 20 years of handyman experience will help you get started.
A handyman license is necessary to operate a family handyman business legally. I have resources here to help you find what licenses you'll need.
A handyman franchise might be the right fit for you. If you want a headstart and have lots of capital to put towards startup costs...
Handyman services should you offer as a new business owner. Services that can help you find a handyman?
Setting handyman rates for your business. Ways to cut costs when hiring out handyman services
A Handyman Network is vital in keeping one step ahead in the ever growing and changing construction industry
Handyman connections and how to get them
Textured Ceilings can be used to hide imperfections or to give your home a uniqueness all its own.
Instructions and tips to install wainscoting for the Family Handyman.
Backyard shed
Choosing the right fence for the job
Faucet installation
Finished Basements expand your living space. But find out what do you need to know before atempting your renovation project.
Tired of waiting for HIM to fix it? Why not become a handywoman
Home decorating tips to help you begin your next project
Home organization is very successful when every person in the home gets involved.
Download family handyman clipart here.
Download free handyman business forms, and learn what other forms may come in handy to run your business
Your first paragraph ...